Takács String Quartet - Muzsikás
Márta Sebestyén
Bartók and the folk music / European tour 2006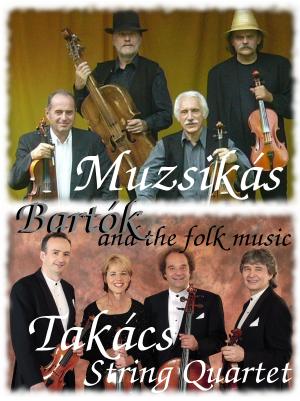 The origin of this programme can be dated back to the Aspen Music festival in 2001. where the idea of the joint concert was suggested by Joseph Horowitz, the renowed musicologist. Later the Takács and Muzsikás slightly changed the basic idea, we wanted to show the connection between the compositions of Bartók and Kodály and the traditional music. The program was first performed in Pittsburg with great success. Later the two groups performed this programme

in

several

concert

venues thorougout the USA, ending at Carnegie Hall, New York. In the 2005-2006 concert season this joint programme can be heard in several European concert venues.


| | | | |
| --- | --- | --- | --- |
| | 14. Jan. | London | Queen Elisabeth Hall |
| | 15. Jan. | Gateshead | The Sage |
| | 16. Jan. | Gateshead | The Sage (workshop) |
| | 18. Jan. | Lisboa | Grand Auditorium |
| | 19. Jan. | Nancy | Salle Poirel |
| | 20. Jan. | Martigues | Theatre des Salins |
| | 21. Jan. | Paris | Theatre de la Ville |
| | 22. Jan. | Köln | Filharmonie |
| | 23. Jan. | Bilbao | Theater of the Philharmonic Society |
| | 24. Jan. | Sevilla | Centro Cultural El Monte |
| | 25. Jan. | Soissons | Arsenal Abbaye Saint Vignes |
| | 27. Jan. | Grenoble | La Cargo |
The basic concept of the present programme is to combine some work of Béla Bartók with the traditional folk music to create a new musical experience with a classical string quartet and a traditional village string quartet. During this concert the two quartets will illustrate the strong connections between the compositions of Bartók and the the rural traditions as the musicians of the Takács Quartet and the Muzsikas folk ensemble see it.
read more of the concept...



PROGRAMME



1. Szászcsávási táncok (Dances from Transylvania) - Muzsikás string band

2. Pásztornóták hosszúfurulyán (Long Flute Melodies) - long flute, vocal
Kanásztáncok két hegedűn (Swineherd's Dances) – two violins
Ugrós és friss (Transdanubian Ugros and fast Csardas) - Muzsikás string band

3. Béla Bartók: String Quartet No. 4 (1928) I. Allegro
Moldvai övestánc (Dance Music of Moldavia) - flute, lute, drum
String Quartet No. 4, II. Prestissimo, con sordino
Fujnak a fellegek (Peacock Melody) - vocal
String Quartet No. 4, III. Non troppo lento
Gyimesi táncok (Dances of Gyimes) - violin, gardon
String Quartet No. 4, IV. Allegretto pizzicato
String Quartet No. 4, V. Allegro molto

interval

1. Béla Bartók: Violin Duos (1931), with source tunes:
Playback: Ardeleana (from Bartok archive)
Torontáli táncok (Dances of Torontál) - violin, gardon
Violin Duo No. 44 - M. Sipos and K. Schranz
Pejparipam rezpatkója (The shoe of my horse) - vocal
Violin Duo No. 28 - M. Sipos and K. Schranz
Playback: Jocul Barbatesc (from Bartok archive)
Jocul Barbatesc – - vocal
Violin Duo No. 32 - M. Sipos and K. Schranz

2. Béla Bartók: Sonatina (1915; transcribed by Endre Gertler ) with tradiaonal tunes
Dudautánzás énekhangon (Vocal imitation of the bagpipes) - vocal
Bagpipes
Bear Dance
Gyimesi medvetánc és héjsza (Bear dance from Gyimes) - violin, gardon

3. Pakulár ballada (Ballad of the murdered shephard) - flute, violin, vocal

4. Béla Bartók: Rumanian Folk Dances (1915, tanscribed for strings by Arthur Willner) with source tunes
Bota és Invertita (Bota and Invertita) - Muzsikás string band
I. Joc cu bata (Dance with Sticks)
II. Braul (Waistband Dance)
Pe loc (Pe Loc) - flute
III. Pe Loc (Stamping Dance)
IV. Buciumeana (Hornpipe Dance)
V. Poarca Romaneasca (Rumanian Polka)
Méhkeréki táncok (Dances of Méhkerék) - string band
VI. VII. Maruntel (Quick Dance) – Takács and Muzsikás