February 17, 2004
CRITIC'S NOTEBOOK
Taking the Perilous Way in a Field Full of Safety
By JEREMY EICHLER
Composers from Haydn to Elliott Carter have long since proved that in chamber music four is the magic number, so it's no surprise that the string quartet repertory is an embarrassment of riches. With so much music to choose from, a quartet today can easily play it safe with programming and even with performance standards, turning in ho-hum renditions of standard works that are built to please.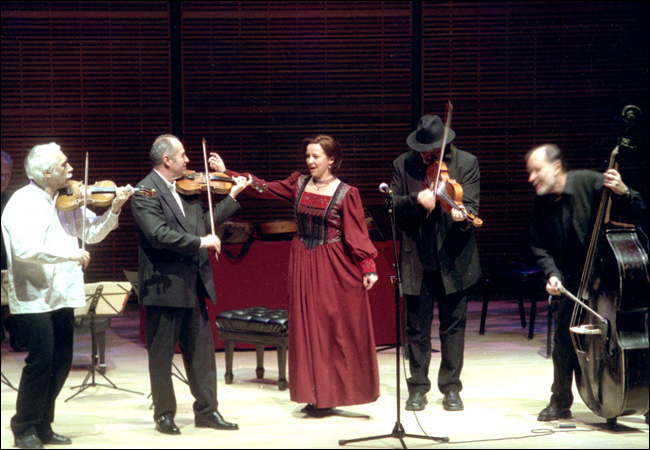 Two quartets, the Takacs and the Artemis, chose the opposite route this weekend, combining fresh materials with fresh approaches to familiar music.
The Takacs opened the weekend with a fascinating program on Friday night, the first of two concerts it played in Zankel Hall. The focus was the connection between Bartok and the Hungarian folk music that famously inspired him. To recreate both musical worlds, the quartet shared the stage with the Hungarian folk ensemble Muzsikas and the vocalist Marta Sebestyen. Traditional tunes (with and without connections to Bartok) were interspersed with Bartok's own compositions, a short work by Kodaly and a few transfixing excerpts from field recordings that Bartok made of peasant musicians early in the last century.
Both ensembles gave exciting, vibrant performances, but the connections between their materials were not always quickly forthcoming. After all, Bartok's own connection to rural Hungarian music was complex, blending Romantic idealization, nationalist striving, ethnographic fascination and his own search for an artistic honesty and truthfulness, qualities he saw in organic folk cultures with their untutored expressions of "real life" as it is lived by a community. All of these factors formed a shifting prism through which the composer refracted the folk traditions he encountered.
Sometimes the original folk sources appeared relatively undistorted in Bartok's music, as the ensembles demonstrated with the Romanian Folk Dances and selections from the 44 Violin Duos. Elsewhere, as with the Fourth String Quartet, they were heavily encrypted within caterwauling dissonances and a thorny modernist language.
The Takacs lit into this quartet with savage intensity and vigor, making it a highlight of the evening. With traditional tunes by Muzsikas interwoven between the movements, the work emerged as a true modernist-folk hybrid, born of a progressive naturalism that seems to transcribe the composer's tumultuous inner landscape as closely as it did any rhythms of the countryside.